Hannah Johnson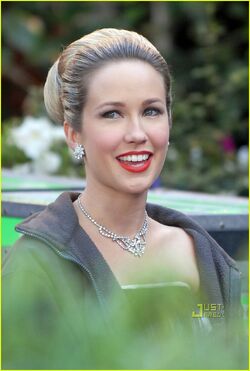 Age
Late 20s to Early 30s

Hannah Johnson is a character in Say Goodbye to America: Scatter
Pre-Apocalypse
Edit
Nothing is known about Hannah's life before the outbreak
Post-Apocalypse
Edit
At some point, Hannah joined the Apex community
Scatter Season 1
Edit
"Vagabonds"
Edit
Hannah, along with Aaron, Garrett, Matt and Frank are in the mall surrounded by walkers when Todd Andrews and Phillip James show up.  She is present when Aaron puts Frank out of misery and flees the mall with the other survivors
Hannah appears when she and the others are running from the mall to Fish's truck.  It is unknown where she goes when the group returns to Apex
Hannah is seen attending Jenny's party, where she, along with the West brothers, Eric Dugan, Garrett and Todd talk about the new living arrangements
Hannah appears in the church sitting next to Miranda and attending Judy's service
Season 2
Edit
"The Same Asylum as Before"
Edit
Hannah is seen in Meredith's house with Elizabeth Hill, Doug Santos, Dexter Hubbard, Olivia Graham, Miranda, Oliver, Kendall Standish, Jack West, Taylor Burns and Annie McGovern discussing spirit animals. Hannah reveals hers is a heron.
Hannah appears with Miranda, Annie and Lindsay Meyerson when the group from the mall return
"Veneno Para Las Hadas"
Edit
Hannah is seen with Miranda being pushed away by Gavin Foxx while trying to see Warren Smith
"Home Invasion"
Edit
Hannah is seen during the attack on Apex, during which she is killed by Arrowhead
Killed Victims
Edit
Numerous counts of zombies
Killed By
Edit
During the attack on Apex, Hannah is shot and killed by Arrowhead
Appearances
Edit
Season 1
Edit
Vagabonds (No Lines)
Tears
Others
Help (Mentioned Only)
Pain (No Lines)
Season 2
Edit
The Same Asylum as Before
Once (No Lines)
Veneno Para Las Hadas (No Lines)
Home Invasion (No Lines)