Garrett Smith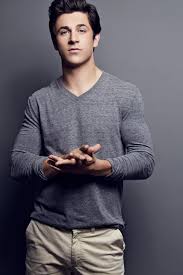 Portrayed by
David Henrie
Garrett is a character in Say Goodbye to America: Scatter
Pre-Apocalypse
Edit
Nothing is known of Garrett's life before the apocalypse
Post-Apocalypse
Edit
Garrett is one of the founding members of the Apex community
"Vagabonds"
Edit
Garrett appears in the same mall as Todd and Phillip, fighting off walkers.  He is seen pointing his gun at Phillip after the latter aims at an unconscious Frank Delehy, but puts it down after being told to by Aaron.  Garrett later helps Matt carry Frank's body, but drops it to shoot more walkers.  
Garrett begins to yell at Todd for cutting off Matt's arm.  He helps Phillip carry Matt's body to the truck and into Elizabeth Hill's office, before leaving to help Aaron unload the truck
Garrett appears at Jenny's party talking with Eric, Timothy West, Jack West, Fish West and Todd about the new living arrangements.
Garrett appears in the church attending the service held for Judy. After the service ends, he approaches Jenny about being put on the crew to go to the mall, but is not given the affirmative
Garrett appears with Jenny, Elizabeth and Matt talking about the group going on the mission to the mall when Phillip and Aaron return
Season 2
Edit
"The Same Asylum as Before"
Edit
Garrett is one of those who volunteers to go to the mall. He stays back with Fish to load supplies into the U-Haul. He is present when Timothy brings Eli to the group to get help. He, Todd and Phillip stab walkers that come near.
"Wet Ribbon"
Edit
Garrett leaves to get Dimitri and Nathan so the rest can leave. He and the other two save Aaron's life from a swarm of walkers. He is seen again as the group sees Gregory leaving and fire on them
Garrett takes Basil, Rick Conrad and Eddie Hedd to find Fish after the latter steals the U-Haul. The four eventually find him burying Timothy as a way to cope. After learning he will not come back, Garrett decides to join Fish on his journey
"It Will Rain for a Million Years"
Edit
Garrett is seen driving down the road with Fish, discussing when they'll return home, if ever
Season 3
Edit
Garrett is seen with Fish and Shania in a cell in the O'Connor Compound listening to the escape plan on the other side
Coming soon
Killed Victims
Edit
Numerous counts of zombies
Appearances
Edit
Season 1
Edit
Vagabonds
Tears
Others
Help (Mentioned Only)
Fears (Mentioned Only)
Pain
Death
Season 2
Edit
The Same Asylum as Before
Wet Ribbon
Once
It Will Rain for a Million Years
Season 3
Edit
After disappearing in Season 2 Episode 7, Garret reappears in Season 3 Episode 8
Community content is available under
CC-BY-SA
unless otherwise noted.