Franklin is a character in Say Goodbye to America: Scatter
Franklin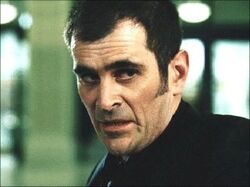 Death
Accidentally shot by Creighton Duke and bled to death (Alive) Stabbed in the head by Anna Cook (zombified)
Pre-Apocalypse
Edit
Nothing is known about Franklin's life prior to the outbreak
Post-Apocalypse
Edit
At some point, Franklin joined the O'Connor Compound
Scatter Season 4
Edit
"On the Road"
Edit
Franklin is first seen lying against a tree with Anna Cook after being accidentally shot by Creighton Duke during an ambush by biters. He promises Anna everything will be all right even if he dies. He calls for Ozzy and informs the group leader about a new plan, one in which the group uses the skin of the dead to lead a herd to the Wiggins Outpost. He later allows himself to bleed out against the tree. During the attack on the Outpost, Anna uses Franklin's reanimated body as a shield to attack Megan Shorris, before Anna stabs Franklin in the head, killing him
Killed Victims
Edit
Numerous counts of zombies
Killed By
Edit
Prior to the attack on the Wiggins Outpost, Franklin is accidentally shot in the chest by Creighton Duke and bleeds out
After turning, Anna uses Franklin's corpse as a shield before stabbing him in the head
Appearances
Edit
Season 4
Edit
Community content is available under
CC-BY-SA
unless otherwise noted.