Eli is a character in Say Goodbye to America: Scatter
Eli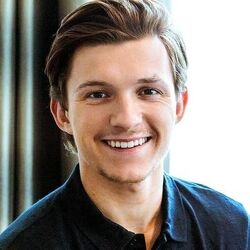 First seen
The Same Asylum as Before
Age
Late teens to Early 20s
Pre-Apocalypse
Edit
Nothing is known about Eli's life before the outbreak
Post-Apocalypse
Edit
At some point, Eli joined the Apex community as a member of the farming community
Scatter Season 2
Edit
"The Same Asylum as Before"
Edit
Eli joins the group on the mission to the mall and rides with Bentley, Timothy West and Nathan. Once there, he fights off walkers with the latter two and Dimitri. Eli has his finger bitten off by a walker and is carried away by West.
"Wet Ribbon"
Edit
Eli wakes up after passing out in Tracy's Hyundai alongside Dimitri.
Eli is seen talking to Jasper Bernard, Luka, Harper and Deedee about the farming community. He is later seen in Elizabeth Hill's office with Kendall Standish
"My Book of Regrets"
Edit
Eli is seen in his house with Oliver in the bathroom. The pair hear the gunshot from Gregory's armada.
"Home Invasion"
Edit
Eli is seen saving Harper from Joe Jeffries and Peanut by shooting them both, killing the former. He makes Peanut walk into Apex at gunpoint
"It Will Rain for a Million Years"
Edit
Eli is seen watching when Maine Ryan wakes up in Elizabeth's office. After releasing Peanut and looking away, Peanut takes the gun and Eli hostage and demands to be led out of Apex. Peanut takes supplies and the two leave
"Trains"
Edit
Eli is seen with Peanut, having finally reached the wall. The pair talk for a while, with Peanut revealing his actual name before hopping the wall. They promise, if they see each other again, to not fire on each other. Peanut gives Eli advice on names and hops the wall. Eli watches as he tosses the gun back over. He walks back to his house where he is introduced to Nils and Izabel
"Arriving Somewhere but not Here"
Edit
Eli is in his house with Oliver, Nils and Izabel discussing the Yard. He suggests Nils tell Jenny Hanson about his theory of Gregory Ames returning.
"Gravity Eyelids"
Edit
Eli leaves Elizabeth's office with Todd to see Jenny while Elizabeth works on Nils.
"Stars Die"
Edit
Coming soon
"Off the Map"
Edit
Coming soon
Season 3
Edit
Coming soon
Coming soon
Killed Victims
Edit
Numerous counts of zombies
Appearances
Edit
Season 2
Edit
The Same Asylum as Before
Wet Ribbon (No Lines)
Once
My Book of Regrets
Home Invasion
It Will Rain for a Million Years
Trains
Arriving Somewhere but not Here
Gravity Eyelids
Stars Die
Off the Map
Season 3
Edit
Eli is the first character to survive having a part of his body bitten off and survive

In his case, his finger is bitten off by a walker, and nothing else. This means if something is bitten off completely, it does not lead to infection