Dexter (Dex) Hubbard is a character in Say Goodbye to America: Scatter
Dexter Hubbard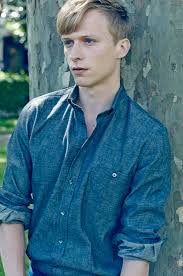 Pre-Apocalypse
Edit
Before the outbreak, Dex was a baker who had worked on wedding cakes, including one for his best friend. He also had three girlfriends, a boyfriend and a transgendered girlfriend
Post-Apocalypse
Edit
At some point, Dex joined the Apex community as part of Leo's group.
Scatter Season 1
Edit
"Others"
Edit
Dex first appears with Leo, Gary and Judy inside of the gated community hunting for supplies. He later appears in the Target, after Carl is bitten and takes out the last walker.
Dex appears when Meredith confronts Judy for being drunk. He is present when Judy threatens Leo, is shot by Brooks and Gregory takes Niklas away.
Dex is among the rescue group heading back to the Target. He is recruited by Leo to track with Jason LePage.
Dex is seen tracking in the woods when he is attacked and knocked out by Maxwell. Because of this, he is not conscious when Jason is killed by Reid and during the Manhunt for Leo.
Dex wakes up in the Target with no recollection of the prior day, and is heartbroken to learn that Jason had die. He is taken by Taylor back to lay down. He is inside with her during the Massacre at the Target.
Dex is with Leo, Ruben, Taylor, Doug and Sylvester around Gavin Foxx. He places the dark bag over his head. He later leaves with Gavin, Aaron and Phillip.
Season 2
Edit
"The Same Asylum as Before"
Edit
Dex is in Meredith's house with Elizabeth Hill, Doug, Hannah Johnson, Miranda, Jack West, Oliver, Annie McGovern, Kendall Standish and Olivia Graham drinking wine and eating cheese and crackers. He is part of the conversation about spirit animals, where he says his is a wolf.
Coming Soon
Killed Victims
Edit
Numerous counts of zombies
Appearances
Edit
Season 1
Edit
Others
Help
Fears (No Lines)
Gone
Pain
Death
Season 2
Edit
The Same Asylum as Before
Once
Community content is available under
CC-BY-SA
unless otherwise noted.