Devin Nelson is a character in Say Goodbye to America: Scatter
Devin Nelson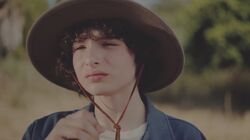 Relations
Sylvester Nelson (father)
Bailey (Aunt; deceased)
Angelina Nelson (mother, deceased)
Portrayed by
Finn Wolfhard
Pre-Apocalypse
Edit
Nothing is known about Devin's life before the outbreak, except that he lived with his family
Post-Apocalypse
Edit
At some point, Devin joined the Apex community with his family and wants to work with Sylvester
Scatter Season 2
Edit
Devin appears at the construction site talking about being in school while being talked to by all the workers as they go by him
"Veneno Para Las Hadas"
Edit
Devin is present with Sylvester and Bailey helping them work. He witnesses Warren Smith getting bitten and having his arm chopped off before leaving for Apex
"My Book of Regrets"
Edit
Devin is seen with Sylvester at the construction site looking glum when Ray kills two walkers out of anger. He is later seen displaying his sadness with the rest of the group
"Home Invasion"
Edit
Devin is seen with his dad and Scott Cleary when the pair are attacked by a Yard soldier. After Sylvester drops his gun, Devin picks it up and shoots the soldier a few times
"It Will Rain for a Million Years"
Edit
Devin is seen with his father attending Jenny's meeting after the attack on Apex
"Arriving Somewhere but not Here"
Edit
Coming soon
Killed Victims
Edit
One unnamed Yard Soldier
At least two zombies
Appearances
Edit
Season 2
Edit
Once
Veneno Para Las Hadas
My Book of Regrets
Home Invasion
It Will Rain for a Million Years (No Lines)
Arriving Somewhere but not Here