Peanut is a character in Say Goodbye to America: Scatter
Peanut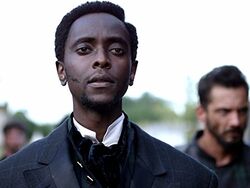 Pre-Apocalypse
Edit
Nothing is known about Peanut's life before the outbreak, except that he was imprisoned for assault and battery
Post-Apocalypse
Edit
At some point, Peanut was freed by Gregory and joined the Yard as a member of the prison community
Scatter Season 2
Edit
"Home Invasion"
Edit
Peanut, under Gregory's orders and along with Cosmo Murphy, Joe Jeffries and Daisy Montgomery, burn the farming fields. He is seen with Joe as the two attack Harper and is shot in the leg by Eli after watching him kill Joe. He is made to follow Jasper, Harper and Luka back while being aimed at by Eli
"It Will Rain for a Million Years"
Edit
Peanut is seen in Elizabeth's office held at gunpoint by Eli. At some point, he is able to free himself and takes Eli hostage as he tries to escape
"Trains"
Edit
Peanut is seen with Eli at the edge of Apex at the wall as the pair work through Peanut's escape. He explains to Eli his incarceration before leaving. He confirms that he and Eli will see each other again at some point before leaving, and making a pact not to fire upon each other if it comes to it. After he climbs the wall, he tosses the gun back over to Eli before taking a car and leaving
Season 3
Edit
Peanut is noticed by both Eli and Kevin as a guard in the O'Connor Compound. When Eli reveals the prisoners are eating human meat, Peanut stops another guard, Karim Fadil, from shooting Eli and agrees to help the prisoners escape. He later returns with Asher Praedo and Victor Montrose to plan the group's escape
Coming soon
Killed Victims
Edit
Numerous counts of zombies
Appearances
Edit
Season 2
Edit
Home Invasion
It Will Rain for a Million Years
Trains
Season 3
Edit
Peanut reveals his name to be David Mangini is Trains (Season 2 Epsiode 8) and that he was arrested for assault and battery
Peanut reappears in Season 3 Episode 8 after having disappeared since Season 2 Episode 8
Community content is available under
CC-BY-SA
unless otherwise noted.