David Blair is a character in Say Goodbye to America: Scatter
David Blair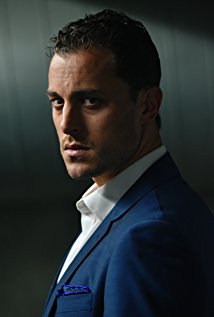 Last seen
Gravity Eyelids
Death
Shot in the head by Cassius Killian
Portrayed by
Kyle Clements
Pre-Apocalypse
Edit
Nothing is known about David's life before the outbreak
Post-Apocalypse
Edit
At some point, David joined the Apex community
Scatter Season 1
Edit
Although not credited, David appears in background shots throughout Season 1, such as Jenny's party in "Once"
Season 2
Edit
"Home Invasion"
Edit
David is first seen stopping Rick Conrad from running into the burning schoolhouse. He is later seen saving Apex Survivor 1 and bringing him to Elizabeth Hill's office
"It Will Rain for a Million Year"
Edit
David appear in Jenny Hanson's house during the meeting and is among those who volunteers to go out an the mission to find supplies to rebuild Apex. He leaves with Doug Santos, Sebastián Bernal, Olivia Graham and Jackson Allen
"Trains"
Edit
David is seen shooting walkers that surround the group on the road. He falls down awkwardly but is saved by Sebastián. He flees with the others when Doug sacrifices himself. He is later seen in the Train Station where he meets Ciara Nash
"Arriving Somewhere but not Here"
Edit
David, along with the others, meet Chester Navarro, Barney Munson and Arturo Vazquez and agree to travel to Waterfront. Along the way, they stop at an outpost and meet Milo and Jared before finally arriving at Waterfront. He is brought into the infirmary and meets Richard Harris and Kayleigh
"Gravity Eyelids"
Edit
David is seen in the infirmary with Dimitri Vanderbilt, Dr. Harris, Kayleigh and Kevin O'Leary. After the former two leave, David talks with Kevin a little bit before Emil and Cassius Killian walk in and execute Kevin. He is shot in the head by Cas
Killed By
Edit
During the Midnight revolt, David is caught in the middle of it and shot in the head by Cassius Killian
Killed Victims
Edit
Numerous counts of zombies
Appearances
Edit
Season 2
Edit
Home Invasion
It Will Rain for a Million Years
Trains
Arriving Somewhere but not Here
Gravity Eyelids