Daisy Montgomery is a character in Say Goodbye to America: Scatter
Daisy Montgomery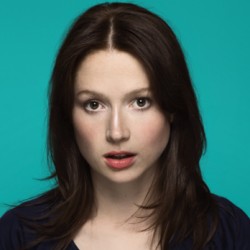 First seen
My Book of Regrets
Portrayed by
Ellie Kemper
Pre-Apocalypse
Edit
Nothing is known about Daisy's life before the outbreak
Post-Apocalypse
Edit
At some point, Daisy joined the Yard
Scatter Season 2
Edit
"My Book of Regrets"
Edit
Daisy is first seen sitting with Lewis, Max, Anthony, Julian and Samuel Tollett at a picnic table discussing the upcoming attack on Apex. She is later seen at gun training with Cosmo Murphy and passes enough to leave for Apex. The pair later have sex the next night
"Home Invasion"
Edit
Daisy is seen during the attack on Apex with Cosmo, Joe Jeffries and Peanut burning the farming fields. She runs off into the woods when shot at by Jasper Bernard, and does not return
Season 3
Edit
"Revelations"
Edit
Daisy reappears with Annabelle Wheeler, along with Staff Sergeant Donald Hawkins and Corporal James Cobalt, when the four enter the Yard to save the survivors from biters. She says hello to Lottie, who is surprised to see her and later walks with the rest to talk with Gregory Ames. She is present when he reveals his bite
Coming soon
Killed Victims
Edit
Numerous counts of zombies
Appearances
Edit
My Book of Regrets
Home Invasion (No Lines)
Season 3
Edit