Cosmo Murphy is a character and a secondary antagonist in the first two seasons of Say Goodbye to America: Scatter
Cosmo Murphy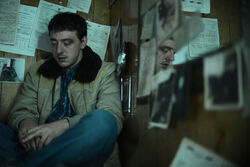 Death
Shot in the head by Jasper Bernard
Relations
Rick Murphy (father)
Pre-Apocalypse
Edit
Nothing is known about Cosmo's life before the outbreak
Post-Apocalypse
Edit
At some point, Cosmo joined Gregory's group with his father, Rick Murphy as a member of the 'B' Squad
Scatter Season 1
Edit
Cosmo first appears with Gregory and Rick out near Lake Crabtree. He is later seen at the Target after Brooks kills Judy. He asks if Liam put down Richardson.
Cosmo is set on to watch Niklas's tent. At some point, he gives control to Sean Moreland
Cosmo is seen in Spencer's trailer with Izabel, Brooks and Nils when Brooks brings up the idea of a mutiny
Season 2
Edit
"The Same Asylum as Before"
Edit
Cosmo joins the rest of the 'B' Squad on the mission to the mall. He rides in the truck bed holding onto the machine gun in the back with Lottie, Gregory, Margot, Rick and Brooks. He later joins Julian and Lottie into the Sears outlet, before joining the others to investigate the screams from the other end
"Wet Ribbon"
Edit
Cosmo joins the others when approaching Todd, Phillip, and the West brothers. He is present when Fish stabs Lulu and Spencer shoots Timothy. He escapes with the others
Cosmo drives back from the mall in Gregory's truck. He tries unsuccessfully to alert Gregory to Spencer's crash, but eventually picks up the survivors and returns home
"My Book of Regrets"
Edit
Cosmo appears with his father teaching people to shoot. He first helps Daisy Montgomery and then Samuel Tollett. He later has sex with Daisy that night before leaving the next day for Apex
"Home Invasion"
Edit
Cosmo, under Gregory's orders, takes Daisy, Peanut and Joe Jeffries to attack and burn the farming fields. While there, he slices Deedee in two, but is suddenly shot in the head by Jasper Bernard
Killed Victims
Edit
Numerous counts of zombies
Killed By
Edit
After cutting Deedee in two, Cosmo is shot in the back of the head by Jasper Bernard
Appearances
Edit
Season 1
Edit
Season 2
Edit
The Same Asylum as Before
Wet Ribbon
Once
My Book of Regrets
Home Invasion
Community content is available under
CC-BY-SA
unless otherwise noted.