Cpl. Connie Boone is a character in Say Goodbye to America: Scatter
Cpl. Connie Boone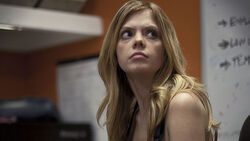 Portrayed by
Dreama Walker
Pre-Apocalypse
Edit
Nothing is known about Connie's life prior to the outbreak, except that she was a corporal in the U.S. Army
Post-Apocalypse
Edit
At some point, Connie was stationed at the Soapstone Military Base under the command of Major Stuart Montgomery and later Captain Lucas McDermott, which was later overrun
Scatter Season 4
Edit
"No Surprises"
Edit
Connie is first seen in an unknown university medical school when survivors from Apex, led by Scott Cleary, arrive to find medication. She, along with Sergeant Gutierrez, David Sharpe and Corporal Maxwell, cross paths with Eli Wilson, Fish West and Sylvester Nelson, telling them to leave. After Jarrod Davis informs the group he made a call to give them meds, Boone, along with David, Gutierrez and Maxwell, raise their guns again. She informs Quinn Kane, a former survivor of Soapstone partly responsible for its fall, that they escaped easily with the amount of weapons they had stored. She is seen in Guiterrez's flashback on how McDermott died after being left behind
"Where We Were"
Edit
Connie will appear in this episode
Killed Victims
Edit
Numerous counts of zombies
Appearances
Edit
Season 4
Edit
No Surprises
Where We Were
Community content is available under
CC-BY-SA
unless otherwise noted.