Chuck Conrad is a character in Say Goodbye to America: Scatter
Chuck Conrad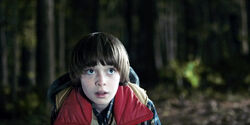 Relations
Rick Conrad (father)
Judy Conrad (mother, deceased)
Piper Conrad (sister)
Portrayed by
Noah Schnapp
Pre-Apocalypse
Edit
Nothing is known about Chuck's life before the outbreak, except that he lived with his family
Post-Apocalypse
Edit
At some point, Chuck joined the Apex community with his family
Scatter Season 1
Edit
Chuck is first seen playing cribbage with Rick and Piper Conrad. He later learns of his mother's death
Season 2
Edit
Chuck appears in Logan Schiff's class with the other kids and asks when they can use real guns
"My Book of Regrets"
Edit
Chuck is seen walking back with Rick and Logan after learning how to shoot
"Home Invasion"
Edit
Chuck is in the schoolhouse when it is hit with a few grenades and fire bombed by Miguelito. He is trapped with an injured Bradley as the building burns around him. He calls to Logan for help, but the latter leaves him to die
Killed By
Edit
While inside the schoolhouse, Miguelito bombs and burns the building, trapping Chuck inside and burning him alive
Appearances
Edit
Season 1
Edit
Season 2
Edit
Once
My Book of Regrets
Home Invasion
Community content is available under
CC-BY-SA
unless otherwise noted.