Cassius Killian is a character and a secondary antagonist in the second season of Say Goodbye to America: Scatter
Cassius Killian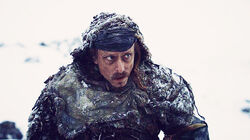 First seen
Gravity Eyelids
Portrayed by
Mackenzie Crook
Pre-Apocalypse
Edit
Nothing is known about Cassius's life before the outbreak
Post-Apocalypse
Edit
At some point, Cas joined the Waterfront community
Scatter Season 2
Edit
"Gravity Eyelids"
Edit
Cassius is first seen in Ryan Hart's house as the second in command of the Midnight Rebellion. He takes Emil with him to the infirmary, where he shoots and injures Kayleigh before killing David Blair
"Stars Die"
Edit
Cassius is seen with Emil. He tells him that he killed David because there can be no witnesses. The two leave to give Ronnie "the okay". The pair are later seen with Ryan and are sent north to another bunker with another Rebel. After the other rebel is killed, Cas and Emil put their guns on the ground and surrender to Arturo Vazquez, Barney Munson and Nate Demarco.
Season 3
Edit
Cassius is seen with Nate, who questions him about the other rebels, since Jared attacked Milo in the latter's outpost. When he does not give enough information, Harvey takes him back to his cell with another guard.
Cassius is sitting in his cell next to Emil when the pair get a slip of paper. While Emil questions what is going on, Cassius laughs
Cassius is seen in his cell complaining about his stomach. He gets Harvey to enter and help him out. Cassius is brought to the infirmary, where he stabs Kayleigh in the throat and runs out of the infirmary
Cassius is seen running the opposite direction from Richard Harris and Harvey when the pair search for him
"...Hello...?"
Edit
Cassius is seen with Harvey and two other rebels as Harvey flips the switch on a detonator, starting Stage 3
Killed Victims
Edit
Kayleigh (Alive)
Numerous counts of zombies
Appearances
Edit
Season 2
Edit
Gravity Eyelids
Stars Die
Season 3
Edit
Alone
Pact
Me?
Food (No Lines)
...Hello...?
Community content is available under
CC-BY-SA
unless otherwise noted.