Carl is a character in Say Goodbye to America: Scatter
Carl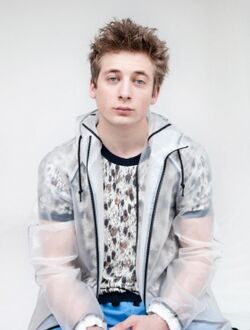 Death
Bitten by a walker; put down before reanimation by Otis
Relations
Sister (unknown; presumably deceased)
Portrayed by
Jeremy Allen White
Pre-Apocalypse
Edit
Nothing is known about Carl's life before the outbreak, except that he had a sister
Post-Apocalypse
Edit
At some point, Carl joined the Apex community as a member of Leo's group
"Others"
Edit
Carl is first seen in the gated community taking point when walking wit Leo's group. Finding nothing, they instead drive to a Target nearby. While scavenging, he enters the employee only door and finds a half-eaten girl. Since he is hesitant to put the girl down, he is bitten in the thigh and yells for help. He uses his strength to stab the walker in the head several times before pleading to be put down. Otis eventually shoots Carl in the head
Killed Victims
Edit
Numerous counts of zombies
Killed By
Edit
While searching through the Target, Carl is bitten by a walker
Otis (Before Reanimation) Edit
Otis volunteers to put Carl down after being bitten
Appearances
Edit
Community content is available under
CC-BY-SA
unless otherwise noted.