Camilla Furtado is a character in Say Goodbye to America: Scatter
Camilla Furtado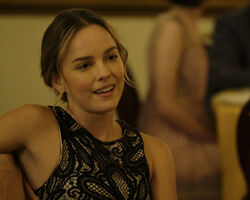 Relations
Tori (girlfriend)
Portrayed by
Allison Miller
Pre-Apocalypse
Edit
Nothing is known about Camilla's life prior to the outbreak
Post-Apocalypse
Edit
At some point, Camilla joined the Waterfront Community
Scatter Season 4
Edit
"No Surprises"
Edit
Camilla is first seen at the Wiggins Outpost during the attack from the O'Connor Compound, during which she fights alongside Amin Issawi, Nathaniel and Ethan Ross. She provides cover fire for Amin. After the attack, she returns to Waterfront with the others
"A Plague On Your Houses"
Edit
Camila first appears on guard duty smoking a cigarette when Tori arrives and chats with her. When she sees an unknown man park out in front of Waterfront, she fires a warning shot at him but welcomes him in when he says he is looking for his daughter, Shoshana Adams. She later meets with Kotter, Chester Navarro, Tori and Stan and tells the former Shoshana died six months earlier, but does not correct Stan when he says she died from a bite
Killed Victims
Edit
Numerous counts of zombies
Appearances
Edit
Season 4
Edit
No Surprises
A Plague On Your Houses
Community content is available under
CC-BY-SA
unless otherwise noted.