Cameron Doyle is a character in Say Goodbye to America: Scatter
Cameron Doyle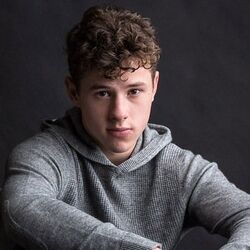 First seen
My Book of Regrets
Age
Late Teens to Early 20s
Death
Shot by an unknown gunman (Alive) Put down by Arrowhead (Zombified)
Pre-Apocalypse
Edit
Nothing is known about Cameron's life before the outbreak, except that he used to hunt with his father
Post-Apocalypse
Edit
At some point, Cameron joined the Yard
Scatter Season 2
Edit
"My Book of Regrets"
Edit
Cameron first appears in line in front of Arrowhead holding a Bolt Action Rifle. He asks what the meaning behind the nickname is, and shuts up when he finds out. Cameron reveals to Gregory Ames that he hunted when he was younger. He is later seen getting in the truck bound for Apex. Once there, he yells at Otis that the Apex people have no idea what the Yard soldiers have fought for. He later shoots a survivor on Gregory's orders
"Home Invasion"
Edit
It is revealed that Cameron shot and killed Horace, and is praised by Gregory. His body is later found by Arrowhead by the truck with a bullet in his chest. Arrowhead puts him down
Killed Victims
Edit
Numerous counts of zombies
Killed By
Edit
Unknown Gunman (Alive)
Edit
During the battle, Cameron is killed by an unknown gunman off screen and later turns
After turning, Arrowhead comes across Cameron's body and puts him down
Appearances
Edit
My Book of Regrets
Home Invasion
Community content is available under
CC-BY-SA
unless otherwise noted.