Callum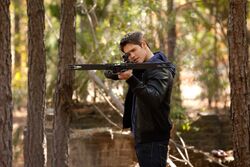 Last seen
Death (Alive) Wet Ribbon (Corpse)
Age
Late 20s to Early 30s
Death
Shot in the head by Ruben
Relations
Maine Ryan (lover)
Portrayed by
Steven R. McQueen
Callum is a character in Say Goodbye to America: Scatter
Pre-Apocalypse
Edit
Nothing is known about Callum's life before the outbreak
Post-Apocalypse
Edit
At some point, Callum joined Gregory's group
Scatter Season 1
Edit
Callum first appears after the fight between Sean Moreland and Avi as he is called over by Gregory with Liam and Alex.  He is told to head back to the Target and follow the group there back to their home.  Before leaving, he talks with his "best friend" (actually lover) Maine Ryan, and they discuss the term "boyfriend". Along the way, Callum reveals his homosexuality to the other two men and tells them he is afraid to reveal it to the rest of the group.  The two men reassure him that people will always have his back.  The group share deep personal stories with each ither until they arrive.  Once there, Liam is shot quickly in the head.  Before he can question what is going on, Callum too is shot in the head by Ruben
Season 2
Edit
"Wet Ribbon"
Edit
Callum's corpse is later discovered by Maine, Max and Taz outside the Target after being executed by Ruben. Maine sees his body but does not stick around to confirm his lover's death
"Off the Map (The Day that Never Comes)"
Edit
Callum is seen in Maine's dreams, explaining that the two will finally be together again. He helps ease Maine into the warm embrace of death
Killed Victims
Edit
Numerous counts of zombies
Killed By
Edit
After Callum, Liam and Alex arrive at the Target, the first two are shot in the head by Ruben
Appearances
Edit
Season 1
Edit
Season 2
Edit
Wet Ribbon (Corpse)
Off the Map (Dream)
Callum is the first gay character in Say Goodbye to America: Scatter
Community content is available under
CC-BY-SA
unless otherwise noted.