Basil is a character in Say Goodbye to America: Scatter
Basil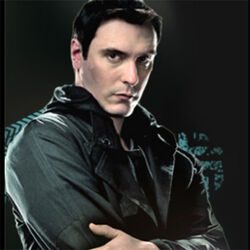 Portrayed by
Benjamin Burnley
Pre-Apocalypse
Edit
Nothing is known about Basil's life before the outbreak
Post-Apocalypse
Edit
At some point, Basil joined the Apex community as a member of the construction crew
Scatter Season 2
Edit
"Wet Ribbon"
Edit
Basil first appears with Sylvester keeping watch when the pair are introduced to Sean Moreland.
Basil appears next to Eddie Hedd and Jack West when Rick Conrad and Garrett Smith walk up to them and Jack leaves. The four give chase to Fish West after he steals the U-Haul out of depression. He, along with Eddie and Rick, leave Garrett behind with Fish after finding him. Upon returning to work the next day, Basil is yelled at by Ray for skipping work.
"Veneno Para Las Hadas"
Edit
Basil is seen working with Owen on measuring and cutting wood for the construction site. He explains he's just tired and that's why it takes him a while to work. He is present when Warren is bit and Gavin cuts off his arm. He is later seen in Elizabeth Hill's office helping her work on Warren. He is there when he dies
"My Book of Regrets"
Edit
Basil appears talking with Ray about calling off working because of everyone's sadness over Warren's death. He watches Ray kill two walkers out of grief and is present for his speech the next day
"Home Invasion"
Edit
Basil rides back to Apex with Bailey and Cole, but is involved in a crash when the former dies. He is not seen again for the rest of the battle
"Stars Die"
Edit
Basil is seen with Cole being introduced to Kevin and Samuel Tollet. They explain they were attacked and Basil saved Cole by pulling him through the wreckage. He reaches for his gun before being told to talk it out first
Season 3
Edit
Basil is seen with Cole, Kevin and Samuel walking along the road when they are approached by a vehicle. The four are seen putting their hands up
Killed Victims
Edit
Numerous counts of zombies
Appearances
Edit
Season 2
Edit
Wet Ribbon
Once
Veneno Para Las Hadas
My Book of Regrets
Home Invasion
Stars Die
Season 3
Edit
Along with Cole, Kevin and Samuel Tollet, Basil had been marked unknown since Season 2 Episode 6 (Home Invasion), before being re-introduced in Season 2, Episode 11 (Stars Die)

Along with the three, Basil will be moved up to Also Starring in Season 3
Community content is available under
CC-BY-SA
unless otherwise noted.