Bailey is a character in Say Goodbye to America: Scatter
Bailey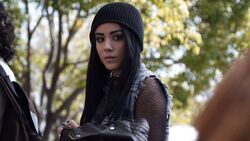 First seen
Veneno Para Las Hadas
Death
Shot by Rick Murphy
Relations
Sylvester Nelson (brother-in-law, lover)
Devin Nelson (nephew)
Angelina Nelson (sister, deceased)
Portrayed by
Chloe Bennet
Pre-Apocalypse
Edit
Nothing is known about Bailey's life before the outbreak, except that she is Sylvester Nelson's sister in law and Devin Nelson's aunt
Post-Apocalypse
Edit
At some point, Bailey joined the Apex community as a member of the construction crew
Scatter Season 2
Edit
"Veneno Para Las Hadas"
Edit
Bailey is first seen with Sylvester and Devin Nelson complaining about Basil. She argues with Sylvester about remembering the past and how Sylvester continues to have an affair with Bailey after his wife's passing. She is present when Warren Smith is bitten and amputated and helps bring him back to Apex
"My Book of Regrets"
Edit
Bailey is among the rest of the construction crew affected by Warren's death at the construction site. She watches Ray put down two walkers out of anger. She later appears at Ray's speech the next day saying she is ready to work again
"Home Invasion"
Edit
Bailey is in the first car driving towards Apex with Basil and Cole. As they arrive, she is shot in the head by Rick Murphy and flips the car
Killed Victims
Edit
Numerous counts of zombies
Killed By
Edit
While driving back to Apex, Bailey is shot in the head by Rick Murphy
Appearances
Edit
Season 2
Edit
Veneno Para Las Hadas
My Book of Regrets
Home Invasion