Asher Praedo is a character in Say Goodbye to America: Scatter
Asher Praedo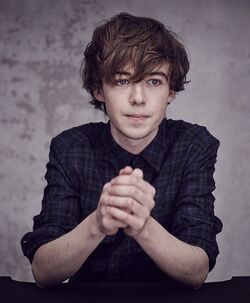 Last seen
A Plague On Your Houses
Age
Late teens to Early 20s
Death
Killed in a car bomb explosion
(A Plague On Your Houses)
Portrayed by
Alex Lawther
Pre-Apocalypse
Edit
Nothing is known about Asher's life before the outbreak
Post-Apocalypse
Edit
At some point, Asher joined the O'Connor Compound, where he worked in the kitchens
Scatter Season 3
Edit
Asher is first seen with Thomas Packer and Dave O'Connor feeding the prisoners in a cell. He seems to be friendly with Kevin
Asher is present with Peanut when Eli Wilson reveals they are being served human meat. He agrees to help Kevin and the rest escape. He returns with Victor Montrose to set a plan
Asher is with the others when they plan their escape, which involves him setting a fire and distracting the guards. However, he is caught and brought to Ned O'Connor
"Outrageous"
Edit
Asher is seen tied up in a room to be interrogated by Ned
Season 4
Edit
"No Surprises"
Edit
Asher is continued to be tortured by Ned and watched by Karim Fadil. When Asher tells Ned about the Yard, Ned does not believe him and proceeds to punch him before attempting to remove one of his eyelids. Karim then takes over for Ned
"Where We Were"
Edit
After Ned tells him of Peanut's return, Asher finally gives in and tells Ned about Apex. For a reward, he is given two chicken pot pies. While eating, he is continuously harassed by Karim, to the point where the two eventually start fighting and Asher is able to bash Karim's head in with a table leg. When Ned finds out, Asher begs to be killed but is knocked out instead
"A Plague On your Houses"
Edit
Asher is taken by Ned to his car so he can be used at Apex. After being placed in the backseat, Hogan opens the drives side door, which sets off an explosion which kills them both
Killed Victims
Edit
Numerous counts of zombies
Killed By
Edit
George (indirectly caused)
Zeke (indirectly caused)
Hogan (accidental)

When Hogan opens the door to Ned's car, he accidentally sets off an explosion George had Zeke set for Ned, killing both Hogan and Asher
Appearances
Edit
Season 3
Edit
Food
Torn
Light
Outrageous (No Lines)
Season 4
Edit
No Surprises
Where We Were
A Plague On Your Houses (No Lines)
Asher's name is Latin for 'destroyer'
Community content is available under
CC-BY-SA
unless otherwise noted.