Arturo Vazquez (Also known as Vazquez) is a character in Say Goodbye to America: Scatter
Vazquez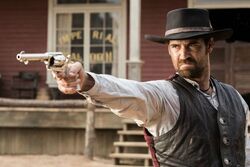 First seen
My Book of Regrets
Portrayed by
Manuel Garcia-Rulfo
Pre-Apocalypse
Edit
Nothing is known about Vazquez's life before the outbreak
Post-Apocalypse
Edit
At some point, Vazquez joined the Waterfront Community
Scatter Season 2
Edit
"My Book of Regrets"
Edit
Vazquez first appears with Chester and Barney Munson preparing a meal and discussing spice in food and length of time the group will be from home
"Arriving Somewhere but not Here"
Edit
Vazquez, Barney and Chester are introduced by Ciara Nash to the Apex group. He points out David Blair's messed up arm and agrees to take the group to Shoshana Adams at Waterfront. Along the way, they stop at the Pungo River Outpost and pick up Milo, before being let into Waterfront by Blake Miller. He, along with Chester, Ciara and Barney, bring the Apex survivors to meet Shoshana
"Gravity Eyelids"
Edit
Vazquez introduces the Apex group to Shoshana. He listens to Phillip James explain the situation before they leave and Vazquez heads home
"Stars Die"
Edit
Vazquez is seen with Barney and Nate Demarco at the end of the Midnight Rebellion, where they capture Emil and Cassius Killian
"Off the Map (The Day that Never Comes)"
Edit
Vazquez is seen with Chester, Leo Henderson, Phillip and Sebastián Bernal discussing terms of trade after the Rebellion. They eventually come to an agreement
Season 3
Edit
Coming soon
Killed Victims
Edit
Numerous counts of zombies
Appearances
Edit
Season 2
Edit
My Book of Regrets
Arriving Somewhere but not Here
Gravity Eyelids
Stars Die
Off the Map
Season 3
Edit