Artie is a character in Say Goodbye to America: Scatter
Artie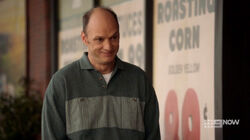 Death
Bitten (alive) Put down by Jarrod Davis (before reanimation)
Portrayed by
Brian Stepanek
Pre-Apocalypse
Edit
Nothing is known about Artie's life before the outbreak, except that he was a custodian at Appalachian State University
Post-Apocalypse
Edit
At some point, Artie stayed with the other survivors at Appalachian State University, although he was unable to kill biters
Scatter Season 4
Edit
"Where We Were"
Edit
Artie first appears carrying his things by hand and denying a bag when leaving for Apex. He later appears when biters attack on the road and is coaxed by Jarrod Davis to finally pick up a knife and fight back. He is later seen saving Sebastián Bernal at a cost, as he is bitten immediately after. When all the biters are dead and the cars fixed, he shares heartfelt goodbyes with his friends and walks into the woods and is put down by Jarrod
Killed Victims
Edit
Killed By
Edit
Zombies (infected)
Edit
Before he can turn, Jarrod shoots Artie in the head
Appearances
Edit
Community content is available under
CC-BY-SA
unless otherwise noted.