Arnold is a character in Say Goodbye to America: Scatter
Arnold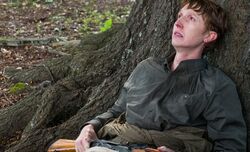 First seen
Gravity Eyelids
Portrayed by
Jordan Woods-Robinson
Pre-Apocalypse
Edit
Nothing is known about Arnold's life before the outbreak, except that he is described as afraid of his own shadow
Post-Apocalypse
Edit
At some point Arnold became a founding member of the Waterfront community
Scatter Season 2
Edit
"Gravity Eyelids"
Edit
Arnold is first seen standing guard with the young Paul Daniels. At some point in the night, Chuck relieves him of his duty. He passes Marla and asks about the meal plan for the next day
"Stars Die"
Edit
Arnold is seen being taken to the infirmary by Stan after being shot
"Off the Map (The Day that Never Comes)"
Edit
Arnold is seen dying during the operation. He is put down by Kayleigh
Killed Victims
Edit
Numerous counts of zombies
Killed By
Edit
Unknown Gunman
Edit
During the Midnight Rebellion, Arnold is shot by an unknown gunman, and later dies from his injuries
After Arnold dies, Kayleigh stabs him so he doesn't turn
Appearances
Edit
Season 2
Edit
Gravity Eyelids
Stars Die (No Lines)
Off the Map (No Lines)
Community content is available under
CC-BY-SA
unless otherwise noted.