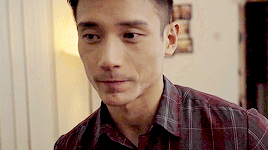 THEME
Anson Hou is a supporting character in Epiphany. A former party frat boy, Anson lived in New Venice since its inception. A bearer whose responsibilities lied with spreading the wealth of the metropolis to smaller communities, Anson has bore witness to the best--but usually the worst--in society outside the towers of his home. Incredibly awkward and intelligent, Anson can often be ignored because what he says goes over the heads of the people around him. He and his much-younger girlfriend Winnie fled a bad situation in their safe home at New Venice, and are now residing at the airport, where Anson serves as a supply runner and loyal lieutenant to Declan. Their relationship is currently in rocky straits due to Winnie's struggles to find a way to contribute to their society.
Character Description
Edit
Coming soon.
Coming soon.
Anson has no counterpart in Eden Rising, the story of which Epiphany is a reimagining.
Community content is available under
CC-BY-SA
unless otherwise noted.