Anna Cook is a character in Say Goodbye to America: Scatter
Ana Cook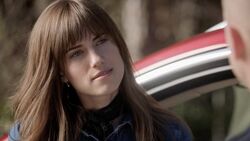 First seen
Tusk (flashback) On the Road (Present timeline)
Death
Shot by Jason Herr and devoured
Portrayed by
Allison Williams
Pre-Apocalypse
Edit
Nothing is known about Anna's life before the outbreak
Post-Apocalypse
Edit
At some point, Anna made her way to the Soapstone Trail Military Base and became a supply runner
Scatter Season 3
Edit
Anna is first seen in the briefing room with the other survivors preparing for their next supply run. When she and the others return without Major Stuart Montgomery, she says none of them expected it. She later appears with the other survivors ready to escape the base but states she does not want to kill anyone at all during the escape. She, Ilene Wright and Jason Herr take weapons from the locker during the escape. She, along with Damian, argues they should leave since Gary Sanchez has not returned. When they get attacked by biters, she prepares the cars to leave and drives off with Jason, Quinn Kane and Megan Shorris. Eventually, they are stopped by Ned O'Connor and other survivors of the O'Connor Compound. It is unknown what happens to her after this
Season 4
Edit
"On the Road"
Edit
Anna paces around an injured Franklin, who became a father figure to her after her escape from Soapstone. While she initially tells Ozzy she wants to put Franklin down before he turns, she eventually acquiesces to his wishes and lets him turn to use as a shield during the attack on Wiggins Outpost. During the attack, she chases down Megan Shorris and eventually corners her. She stabs a reanimated Franklin in the head and cuts Megan across the belly but stops when her mask is removed and Megan recognizes her
"No Surprises"
Edit
Anna is seen on top of Megan and appears to become sympathetic to Megan's pleas for help, but instead stabs the latter to death. She is chased by Jason towards the herd, and he shoots her in the leg. She pleads for help and he obliges, but he shoots her in the chest when she tried to attack him. Her screams of pain draw biters towards her and she is devoured
Killed Victims
Edit
Numerous counts of zombies
Killed By
Edit
After trying to stab him with her knife, Jason shoots Anna in the chest
After screaming in pain, zombies surround Anna and devour her
Appearances
Edit
Season 3
Edit
Season 4
Edit
Community content is available under
CC-BY-SA
unless otherwise noted.