Adam McGill is a character in Say Goodbye to America: Scatter
Adam McGill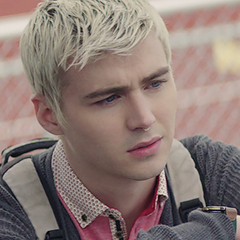 Age
Late teens to Early 20s
Portrayed by
Miles Heizer
Pre-Apocalypse
Edit
Nothing is known about Adam's life before the outbreak
Post-Apocalypse
Edit
At some point, Adam joined the Yard
Scatter Season 2
Edit
"Stars Die"
Edit
Adam is seen asking Rick Murphy about Gregory. He later listens to Rick's speech
Season 3
Edit
Adam, along with Ryo Osaka, Jane Byron and Max are the only ones in the Yard to vote against the group, opting to leave the Yard behind. He, Ryo, Max, Grease, Vass, Brooks, Lottie and Rick leave the next morning leave to find supplies since they decided to stay.
Adam walks with Ryo in the gardening section looking at seeds and tools. The two talk about a plan but do not go into detail. Ryo eventually decides to not follow Adam, although Adam tells Ryo he is still allowed to leave if he wants.
Adam is seen with Daniel Chance while Gregory walks through the Yard. The two turn away from him
"Revelations"
Edit
Adam is seen with the rest of the survivors around the campfire. When biters invade, he is seen with Daniel and Ryo trapped, but is rescued by Lottie and Arrowhead. He is present when Annabelle Wheeler and Daisy Montgomery arrive with Donald Hawkins and James Cobalt, saving the survivors
Adam and Daniel visit a dying Grease and Amin to let them know of their decision to leave. They offer them a ride but they decide against it.
Killed Victims
Edit
Numerous counts of zombies
Appearances
Edit
Season 2
Edit
Season 3
Edit
Lift (No Lines)
Alone
Pact (No Lines)
Revelations
Me?
Community content is available under
CC-BY-SA
unless otherwise noted.