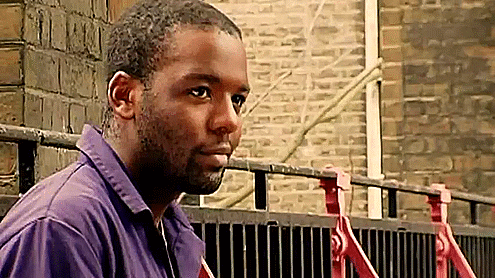 "
But you know what? I was okay with dying right then and there, because when your time comes, your time comes. Can't do nothing about that. But then I remembered you guys and my only regret was that I couldn't say bye, y'know? Because everything we've been through since the Goddamn Super 8...That warrants a goodbye, at least. You think so? I--I dunno what I'm trying to say. I mean, I do know. Just thanks, for being there and...and being the two people I trust more than anyone. After a close call like that, I needed you to know that.
"

Adam Dugall is a main character in Dead Frontier. Adam wasn't prepared for the terrors the apocalypse would bring, the most frightening of those being this fear of infected he just couldn't shake. Watching his girlfriend, Shermadine, turn and eventually putting her down contributed greatly to his phobia. He soon realized his naivety would be a disadvantage if he planned on surviving for a substantial amount of time, and eventually, interactions with infected became second nature.
With no family or loved ones to accompany him, Adam found acceptance within the group quickly, forming several strong bonds with other members. Adam would eventually become the last living member of those from the Super 8 motel following the death of close friend, Cole, but he still kept himself grounded. 
Background
Edit
Adam lived a typical student's life in Chicago, balancing school and work as a fast food cook. Work, school, and home was his daily routine, and he was afraid that's all his life would ever be.
Adam had a girlfriend name Shermadine, who acted as a motivator and role model of sorts to him. He could count on her to lift his spirits and give him the confidence he needed.
Post-Apocalypse
Edit
Relationships
Edit
Personality
Edit
Adam is a kind soul, often willing to take risks for the group but never losing sight of his own well-being. The initial shock of the apocalypse leaves him afraid and unsure of himself, but, eventually, he's forced to adapt to the world like everyone else. However, he's managed to stay calm and level-headed through it all, a trait that's highly revered by his peers. 
The respect that Adam has managed to uphold is most responsible for his segue into the group's lead decision-maker. Managing to be fair and honest without being a pushover, Adam has done whatever he can to keep the group together. It's a daunting task, but he hides that underlying fear of failure from everyone else.
Killed Victims
Edit
SPECIAL THANKS TO LEE. E FOR MAKING ADAM'S GIF <3
Adam's theme is "Gorgeous" by Kanye West ft. Kid Cudi and Raekwon.
Adam was a contestant in the UFSW Hunger Games, along with Cole Pruitt and Billie Starr, where he placed 37th.
Adam has the longest lifespan in the story.
Community content is available under
CC-BY-SA
unless otherwise noted.